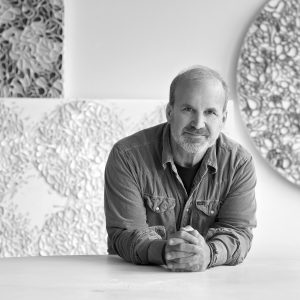 Artist Brian Huber
Brian Huber was raised in New Orleans in a house full of art and artists. His earliest creative influences were his mother Janeth Murray and aunt Lynne Gleason – both successful artists. Part of the creative gumbo was his grandmother Sculptor Rai Murray. A music filled studio, the smell of fresh paint and piles of paintings to name are fond memories of the time at home. Brian studied Art and Architecture at the University of Louisiana.
He spent numerous years designing and orchestrating events for major television studios and corporations. For five years Brian split his time between New Orleans and San Francisco. After a few years in the city he moved to the eclectic houseboat community in Sausalito. He now lives with his wife in Marin County and is grateful to have more time in the studio.
Brian's work is based on the abstraction of landscapes, architectural elements and the impact of man on the natural world. Raised in New Orleans, Brian was influenced not only by an unconstrained culture and the rhythmic motions of blues and jazz, but also an environment where hurricanes could change or destroy everything in minutes.
Brian transforms landscapes and manmade forms into something new.  His pieces represent physical changes on a grand scale —anything from the construction of a beautiful building to the devastation of a man-made disaster. 
Brian cuts and manipulates giant sheets of acrylic paint to create the distinctively sculptural texture of his pieces. The constant change of light and shadow alters the color and pattern of his creations, breathing life into them.
Previous series include Water Rising, which deals with the rebirth of his hometown New Orleans after Katrina, and Barrier, which was inspired by man-made oil disasters, false barriers between nature and man, and the recovery energy that resides in deep in the swamps, gulf and wetlands.
In his next series, Follow the Line, Brian explores what lives on either side of the imagined lines we concoct for ourselves to cope with life.The Veil series introduced a discussion about how the hidden veil we all wear distorts our views and alters the way we consume reality. This discussion continues in the Circle Back series, which plays with light and shadow on wrought ironwork found throughout New Orleans. An abstracted interpretation of the braided rivers and glacial moraines of the Denali Alaska landscape is the focus of Braided. Circumference and Shard are current series being exhibited in 2018.
You are invited to visit the studio. Please contact Brian to set up an appointment.
Follow Brian Huber on Facebook  or Instagram #brianhuberart
CV   –  download Bio and CV  (pdf)
EDUCATION
University of Louisiana, Art and Architecture, 1983
PRIVATE & CORPORATE COLLECTIONS
Private Collection, Atlanta GA
Private & Corporate Collections, Nashville TN
Private Collection, New Orleans LA
Private & Corporate Collections, Cincinnati OH
Private Collection, Washington DC
Private Collection, Chicago IL
Private Collection, New York NY
Private Collection, San Miguel De Allende GTO Mexico
Private Collection, Porto Portugal
Private & Corporate Collections, Bay Area, San Francisco
SOLO EXHIBITIONS
2012 Stanford Arts – Visiting Artists Program, Stanford, CA
2012 JellyFish Gallery – Follow the Line, San Francisco, CA
2013 Moxi, San Francisco, CA
2015 Crome Architecture – Circle Back, San Rafael, CA
2015 10th Street by Curated State, San Francisco, CA
2016 Avenue by Curated State, San Francisco, CA
2017 LeDame Art Gallery, London UK
2018 301 Gallery, San Miguel De Allende GTO, Mexico (upcoming)
SELECTED GROUP EXHIBITIONS AND FAIRS
2018 StARTup Art Fair – San Francisco CA, April 2018
2018 Affordable Art Fair – New York NY, March 2018
2018 Artrooms Fair Roma  – Rome Italy, March 2018
2018 Art Palm Springs Art Fair, Palm Springs CA
2018 StARTup Art Fair – Los Angeles CA
2018 Palm Beach Contemporary and Modern Art Fair, Palm Beach FL
2017 Spectrum Art Fair – Miami Art Basel Week, Miami FL
2017 Los Angeles Art Fair – Los Angeles CA
2017 ArtRooms Art Fair, London U.K.
2017 ARTSPAN San Francisco Open Studios, Mission Creek Pavilion , San Francisco CA
2017 ADC Art Comes Alive, ADC, Cincinnati, OH
2016 Spirit Land Memory,  Jorge Mendez Gallery, Palm Springs, CA
2016 Squares Juried Show, 311 Gallery, Raleigh NC
2016 Touch of Blue National Juried Exhibit, Center for Creative Arts, Fredericksburg, VA
2016 NCA 61st Annual International Open Exhibit, Fine Arts Center, Sacramento CA
2016 ARTSPAN San Francisco Open Studios, McCroskey Event Space, San Francisco CA
2016 SALI Abstract Exhibition XII,  Garfield Park Arts Center Indianapolis IN
2016 State of the Arts National Juried Show, R.E. Endres Gallery, Prairie Village, KS
2016 Atypical Topographies National Show, Cloyde Snook Gallery, Alamosa, CO
2016 Abstract Catalyst 3 National Show, Verum Ultimum Gallery, Portland, OR
2016 National Juried Art Exhibit at Black Creek Arts, Hartsville SC
2016 National Painting Show, NVAL, Redding CA
2016 64th Sausalito Art Festival, Sausalito, CA
2016 Arrangements in Black and White National Show, Art League, Santa Cruz, CA
2016 34th Wallowa Valley Festival of Arts Juried Show, Joseph OR
2016 Annual LAA National Fine Art Show, Art Center of Louisville, Louisville, CO
2016 Axis Gallery 11th National Exhibition Juried Show, Sacramento CA
2016 Bay Area Painting Juried Show, Pt. Reyes Station CA
2016 ADC Art Comes Alive, ADC, Cincinnati, OH
2016 Waterloo Art Festival, Cleveland, OH
2016 Painting on the Edge Exhibition, Federation of Canadian Artist, Vancouver, BC
2016 St. Tammany 51st Juried Artists Exhibition, Covington, LA
2016 Mark Arts National Juried Exhibition, Wichita Center for the Arts, Wichita, KS  
2016 Slice National Juried Show, Pence Gallery, Davis, CA
PUBLICATIONS
Purva Chawla, "The Polymorphism Of Paint", Material Driven Magazine, 20, November 2016
Create Magazine Curated Selection – 4th Edition, June 2017
Art 2 Life – Artist Interview Series January 2018
California State Libraries – 360 VR Studio Tour Interview – February 2018
GALLERY AFFILIATIONS
Jorge Mendez Gallery, Palm Springs CA
Le Dame Gallery, London UK
ZK Gallery, San Francisco CA
ADC, Cincinnati OH
SELECTED LECTURES
2016 Artist talk, ArtRooms Art Fair – London UK
2017 Artist talk, ZK Gallery San Francisco CA
2017 Utilizing Social Media & Instagram for visual artists ICB Artists Sausalito CA
______________________________________________________________________________________________
All work copyright Brian Huber Art 2011-2018
Newsletter:  Sign up for Brian's Art Spam Newsletter